5 Ways To Fix Leaking Basement Walls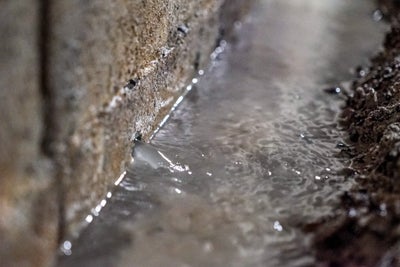 When you step into your basement and find damp or leaking walls resembling a fountain, it's a clear indication that trouble is brewing.
While basement wall leaks may initially seem insignificant, they can lead to frustrating issues that impact your entire home. But the good news is that these problems can be repaired and you can keep your home from falling victim to leaks.
By consulting with local basement waterproofing experts, you can swiftly address these leaks and restore your home to its former glory.
Here, we'll cover the signs of basement wall leaks and how to efficiently resolve the problem for good.
Identifying Damp and Leaking Basement Walls
You may think identifying a leaking wall in your basement would be simple. In many cases, it is! If you notice water pooling near a particular wall, you can reasonably assume that is the wall that's letting water in.
However, there are other signs of an internal leak you should keep an eye out for. These signs include: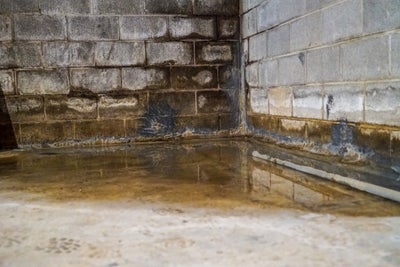 Cooler Temperatures:

An excess of water in the air lowers the temperature of your basement, even when the weather outside is already cold. If you notice your basement feels unusually cool, you may want to explore the area for a leak.

Increased Humidity:

Similarly, more water in the air will result in higher basement humidity. You can use a hygrometer or humidistat to test the humidity of your basement. Alternatively, test for yourself whether or not the air in your basement feels heavy or damp. Both are a sign of increased humidity.

Damaged Belongings:

One of the clearest signs of a basement leak is damaged belongings. Is the fabric on your basement couch turning up? Have your paper documents been damaged? If so, you have a leak on your hands – one that you'll need to address ASAP.

Fogging Windows:

While not every basement has windows, yours may have small ones or a larger egress window. If you do, and you want to keep a close eye out for water leaks, check to see if your windows are fogging. Water, as it evaporates, will gather on the glass, making it easier to determine whether or not your basement is attracting an unusual amount of precipitation.

Warping Window and Door Frames: The wood your window and door frames are made of responds poorly to increased basement humidity. If you're having a hard time getting your basement doors or windows open, they may have been impacted by a water leak.
Mold: Finally, standing water on your walls or floors serves as an excellent incubator for mold. If you're noticing large growths, you definitely have a leak that needs attention.
Immediate Fixes Versus Waiting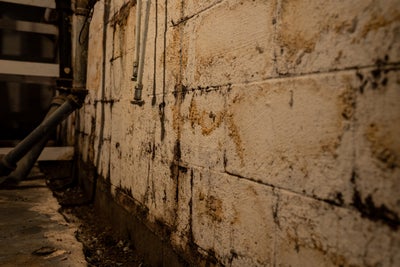 You may not consider leaking walls to be that big of an issue when it comes to the care and keeping of your home. This, however, is not the case, especially in Central Indiana, where we see plenty of precipitation throughout the year.
If you leave leaking walls unattended to in your home, you could face:
Long-term damage to fabrics, leathers, papers, and wood belongings

Mold growths that threaten the health of your family

Foundational or wall cracks

Damaged electrical circuits
How to Fix a Leaky Basement
Luckily, there are a few different ways you can clean up the water in your basement while also preventing it from getting back inside.
These solutions include:
1. Interior Drainage Systems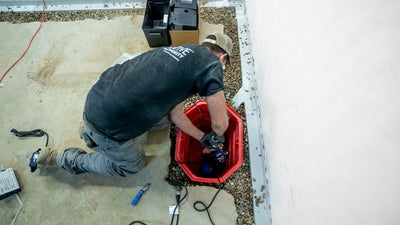 An effective internal drainage system, installed in the subfloor of your basement and all the way around its perimeter, is specially designed to intercept and collect water from the walls, floor, and cove joint where they meet.
2. Sump Pumps
Any water collected by the drainage system is channeled to a sump pump. Installed in the lowest part of the basement, water drains into the sump basin, activates the pump when it reaches a certain level, and is then pumped up and out of the basement and away from your home.
3. Dehumidifiers
To control excess humidity levels, an energy-efficient dehumidifier is installed along with other moisture management measures. This unit should self-drain so there are no buckets to worry about emptying. A comprehensive system also should clean and filter the air and reduce odors, improving your overall indoor air quality.
4. Wall Vapor Barriers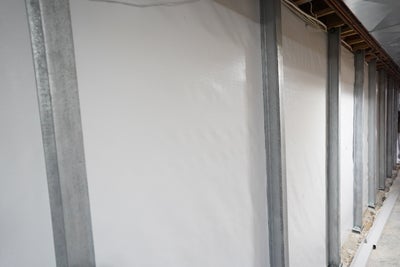 A vapor barrier – a plastic covering resembling a swimming pool liner that keeps liquid and vapor out – is placed over the walls. If any water leaks through the walls, it flows behind the liner and down to the interior drainage system.
5. Foundation or Wall Repairs
Wall cracks can be a problem with and product of leaking basement walls. Sometimes, foundation or wall repairs, are needed along with basement waterproofing measures. These can include wall reinforcements like carbon fiber straps, wall anchors or wall braces to help repair cracking and bowing basement walls, and helical piers or push piers to stabilize and help lift settling foundations.
IFS Will Fix Your Leaking Basement Walls for Good
A basement wall leaking water can do a real number on your basement and the entire house. Don't wait to call a professional out to your home for a free inspection and estimate if you think your walls are leaking. The sooner you implement waterproofing solutions in your basement, the better!
Our team at Indiana Foundation Service has been helping homeowners throughout Central Indiana waterproof their basements for 30 years. Our permanent basement waterproofing and foundation repairs are second to none. Experience the excellence for yourself by contacting us today!
Publish Date:
Last Modified Date: