AquaStop™ Basement Sump Pumps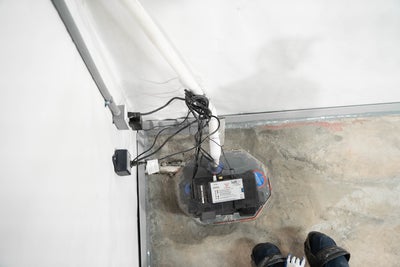 Water in your basement can cause significant damage, ruin cherished items, and result in costly repairs and decreased home value.
At Indiana Foundation Service, we provide dependable AquaStop™ Sump Pumps as a powerful solution to effectively eliminate water, ensuring your basement stays dry and healthy.
With 30 years of experience in waterproofing basements across Central and Southern Ohio, our team has earned a reputation for unmatched customer care and high-quality basement waterproofing solutions that homeowners rely on.
This page teaches you the importance of investing in a reliable sump pump system to permanently resolve your wet basement problem.
What is an AquaStop™ Sump Pump System?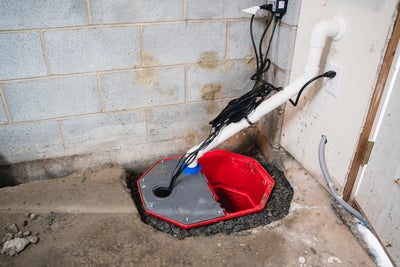 The AquaStop™ Basement Sump Pump System is a specialized device carefully placed at the lowest point in your basement. It's specifically designed to collect water from the interior perimeter drainage system and efficiently pump it away from your home's foundation.
This system is crucial in basement waterproofing, protecting against basement flooding and potential structural damage. But it's more than just that; it's part of a comprehensive solution to create a safer and healthier living environment for you and your loved ones.
AquaStop™ Sump Pumps come with impressive features such as a water alarm, sump liner, airtight sump lid, and high-quality cast iron pumps to ensure exceptional reliability and effectiveness. With regular maintenance, an AquaStop™ sump pump will keep your basement dry for many years.
Signs You Need a Basement Sump Pump
It is important to be aware of the indicators that suggest the need for a sump pump in your basement:
Musty basement smells
Efflorescence on basement walls or floors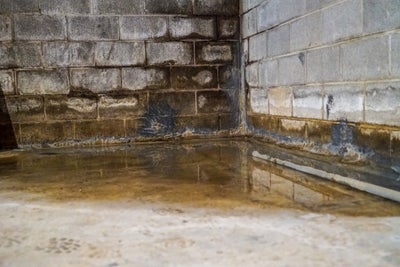 These signs are a call to take action to safeguard your home from water damage and related issues. It is essential to get in touch with a basement waterproofing professional like Indiana Foundation Service when you notice something is wrong. Ignoring the problem can lead to further damage, compromise your family's safety, and result in higher repair costs.
Is a Sump Pump Necessary?
Yes, a sump pump is vital; it is the heart of your basement waterproofing system.
Without a sump pump to remove the water collected by the drainage system, moisture will build up. This trapped moisture can lead to mold growth, mildew, and structural damage.
Taking action early saves you the hassle of dealing with more significant issues down the line. Moreover, AquaStop™ Sump Pumps can be seamlessly integrated into a comprehensive home solution, prioritizing the well-being and safety of your living space.
What Are the Different Kinds of AquaStop™ Sump Pumps?
We understand that every home is unique and has its own specific requirements. We are pleased to offer a range of sump pump systems tailored to suit your basement's needs.
AquaStop™ Basement Single
This pump system utilizes a powerful SafeDri™ cast iron pump for standard water removal. You can install either a SafeDri™ ⅓ hp or ½ hp pump. The ½ hp pump can discharge over 2,000 gallons of water per hour, while the ⅓ hp pump can discharge over 3,000 gallons per hour.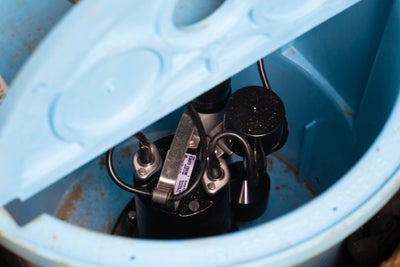 AquaStop™ Basement Single with Battery Backup
This system includes a battery backup to safeguard against power outages. It can discharge over 11,500 gallons per hour on battery power.
AquaStop™ Basement Triple
Our most dependable system consists of three pumps that provide comprehensive protection. The primary SafeDri™ 1/3 hp pump handles regular water removal, while the secondary SafeDri™ 1/2 hp pump offers additional capacity for larger volumes. The third pump, which is the battery backup pump, ensures protection during power outages.
Each type of sump pump is specifically designed to address different needs. Our team of qualified technicians will assess your basement's moisture issues and recommend the AquaStop™ system best suited for your home.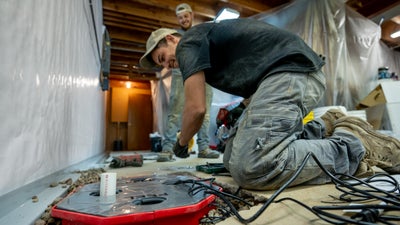 What Are the Benefits of the AquaStop™ Sump Pump System?
With a reliable sump pump system, you'll experience these benefits:
Basement Dryness: AquaStop™ systems quickly remove water, preventing flooding and damage.
Comprehensive Protection: Our sump pumps work well with other waterproofing solutions like interior drainage, vapor barriers, and dehumidifiers.
Reliable Pumping: AquaStop™ systems have triple redundancy and battery backup options for reliable pumping during extreme weather and power outages.
Long-Lasting: Our cast iron pumps are built to last for decades.
Indiana Foundation Service provides custom wet basement solutions with proprietary pumps and expert installation. Contact us today for a free inspection.
How AquaStop™ Sump Pumps Work
After an assessment by an Indiana Foundation Service expert, we install the AquaStop™ sump pump as follows:
Determine the lowest point of the basement
Excavate floor and perimeter for drainage system
Place interior drains in trench and connect drains to sump basin
Install pumps and components and add interior and exterior discharge pipes
Run electrical hookup and attach battery backup if needed
Test pumping system
Attach an airtight lid to the sump basin
Pour cement to restore the floor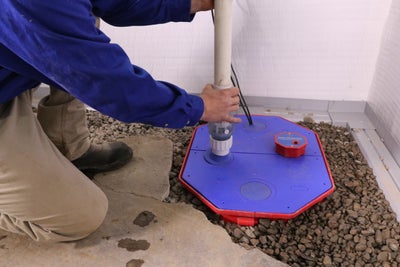 How this system works:
Interior drainage system collects water
Water is directed to sump pump system
Pump activates when water reaches a certain level in the basin
Water is pumped from the basement and directed away from the home
Indiana Foundation Service provides reliable installation services for effective sump pump and basement waterproofing systems.
Why Our Sump Pumps are the Best Choice for Your Home
AquaStop™ sump pumps have the following features:
High-quality cast iron pumps with multiple levels of protection
Water alarm
Airtight lid
Battery backup options
Annual maintenance service plan and a comprehensive transferrable warranty
Trust Indiana Foundation Service for the most reliable sump pump system and whole-home solutions to protect your basement.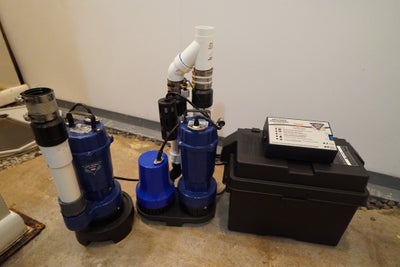 Contact Indiana Foundation Service for Sump Pump Solutions Today!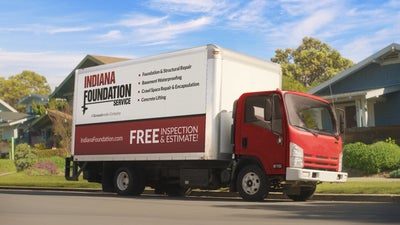 Don't worry if your basement leaks when it rains. Indiana Foundation Service is here to assist you in dealing with the storm by providing reliable sump pumps and other basement waterproofing solutions. Contact us today to schedule a free inspection and estimate.
We fully understand the challenges of wet weather in Central and Southern Ohio, and we are here to help you safeguard your home from water intrusion. Our AquaStop™ sump pumps are strong enough to handle the task, ensuring that your home remains dry for many years.
FAQs
We recommend adding a battery backup option to your sump pump system, especially if you've had problems with significant flooding and power outages. Our batteries ensure your sump pump continues to function during power loss. Contact Indiana Foundation Service for a free inspection to learn which sump pump system is right for your home.
We do not recommend troubleshooting your sump pump system on your own. Sump pumps installation can be complex and the units themselves are comprised of delicate components. If there is a problem with your pump, contact Indiana Foundation Service for assistance and a free inspection and estimate for repairs.
We recommend annual maintenance as part of our service plan to ensure your system runs optimally. Our technician will test the system and other installed solutions during the appointment to ensure optimal performance. Contact us to learn more and schedule an annual maintenance inspection.
Publish Date:
Last Modified Date: