Your home is a safe haven and a source of comfort. But that comfort and safety may not always be there if your foundation is damaged.

Ignoring foundation problems will only lead to more significant issues and higher costs over time, so taking care of your home's foundation is crucial. This requires a combination of precision-engineered solutions, customized approaches, and trained professionals.

At Indiana Foundation Service, we don't compromise on quality or safety. We are proud to offer honest and professional foundation repair services to thousands of homeowners throughout Indiana every year. When you work with us, you get a free, no-obligation inspection by our local team and a comprehensive service package that quickly addresses any foundation issues. Contact us today to
schedule your inspection. It's the first step towards securing your home and strengthening its foundation.
Why is Foundation Repair Important?
We know that fixing your foundation can be costly and intimidating. However, delaying the process will only exacerbate the issue, leading to other problems and higher expenses down the line. It's important to act now to avoid any negative impacts on your home and loved ones.
Safety Risks
As your trusted foundation specialists, we know that safety risks are no small matter. Even issues that might only seem inconvenient, like tilting chimneys or sticking windows, can lead to disastrous consequences if left unchecked. Our priority is ensuring the long-term stability of your home's foundation and protecting you from worst-case scenarios like structural collapse. At the end of the day, we believe you deserve to live in a safe environment, and we are dedicated to making that a reality.
A Less Functional House
Foundation damage can make your home uncomfortable to live in and decrease its functionality. The constant shaking of dishes, rolling of items, and difficulty opening doors and windows can be frustrating. Don't let these daily inconveniences remind you of the hidden trouble brewing beneath your feet. Our team understands and believes your home shouldn't feel like it's falling apart. Let us help you address and fix your foundation issues.
Expensive Property Damage & Repairs
The reality behind foundation repair costs is they escalate as the damage worsens. If left untreated, foundation issues can cause bothersome cracks in your home's walls, floors, and even countertops. But when you catch the problem early enough and install durable repairs, you can potentially avoid costly repairs down the road and enjoy peace of mind in a safe and secure living space.
Reduced Property Value
Maximizing the value of your home when selling can be stressful. Even little things can impact your home's value, and foundation issues can worsen over time. Wall and floor cracks are a common symptom of foundation problems, and both buyers and inspectors will take note. Merely covering these problems won't fix the underlying issue, which will continue to resurface. When it comes to your most significant investment, your home, only the best will do. Trust Indiana Foundation Service to provide top-quality solutions.
Identifying Foundation Problem Signs
If your foundation has sustained damage, you'll know it if you spot these telltale problem signs:
Brick cracks
Floor cracks
Gaps between walls, floors, and ceilings
Also, consider that foundation damage may cause mold problems. In Indiana, it's common for high amounts of precipitation to bombard your home. Over time, water can sneak into your basement or crawl space. This will lead to mold on the walls.
If you see any of these issues around your property, don't wait to have them inspected and repaired. Reach out to our team at Indiana Foundation Service as soon as possible.
---
---
What Causes Foundation Damage?
Water and soil are the two main causes of foundation damage. When they mix and interact, it causes an array of issues for your home's foundation. Indiana has a wide variety of soil types. Land near Lake Michigan tends to have sandy soil, while clay soil can be found inland.
When areas with sandy soil experience heavy rain or snow, the ground below your foundation can erode and offer inadequate support. In areas with clay soil, excess rain or snow cause soil expansion beneath your foundation, and a lack of water leads to dry, shrinking soil below your home.
Either way, these scenarios disturb the foundation footers that support your home. The constant changes between heavy rain and dry days are even more problematic, which rapidly erode, expand, or contract the soil, only worsening foundation problems. In Indiana, which is known for its humid climate and frequent rains, the most typical issue stems from excess water due to heavy rainfall.
Other factors that also lead to oversaturated soil include poor yard grading, malfunctioning gutters and downspouts, and natural disasters.
The Indiana Foundation Service Solution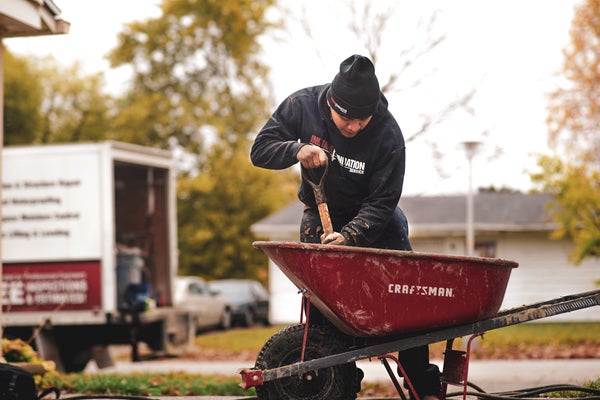 At Indiana Foundation Service, we're passionate about delivering outstanding customer care and home solutions. Our top-of-the-line products are built to weather even the harshest conditions, providing long-lasting durability. Plus, all our foundation repair services come with Life of the Structure warranties, so you can rest easy knowing your investment is protected. All these warranties are also fully transferrable, ensuring your home's value stays intact whether you choose to stay or sell. With Indiana Foundation Service, you can count on quality, reliability, and peace of mind.
SettleStop Wall Repairs
Various foundation issues can wreak havoc on your basement. Cracked and bowed walls let moisture seep in, inviting mold and efflorescence. But Indiana Foundation Service has you covered with top-notch wall repair methods.
We prioritize efficiency and effectiveness, so you don't have to worry about disruptions to your daily life. Most of the work is done right in your basement, resulting in a clean and timely installation. You won't even notice we were there!
Our wall repair options are comprehensive, including: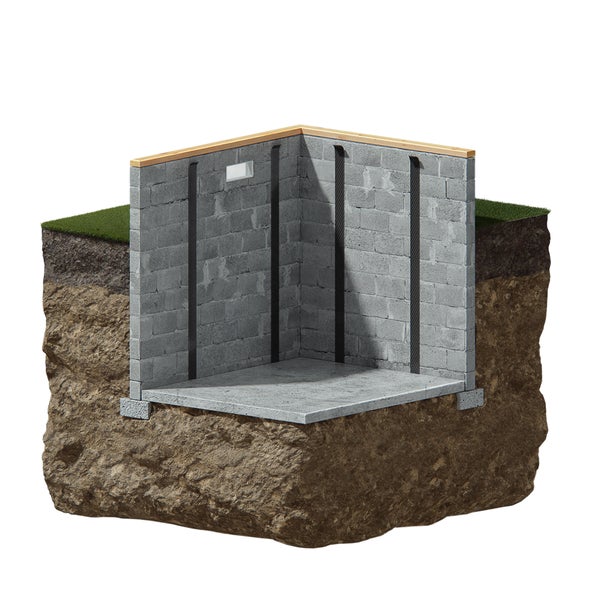 Carbon Fiber Reinforcement
Even slight cracks or inward movement in your basement walls can signify the need for repair. Our SettleStop Carbon Fiber Reinforcement system is specifically designed to stabilize and bolster basement walls with less than two inches of movement.
Our installation process is minimally invasive, using a specialized epoxy adhesive to securely attach the high-strength carbon fiber straps. These straps can withstand hydrostatic pressure and are 10 times tougher than steel, ensuring full support for your basement walls. Best of all, the entire process takes place inside your basement.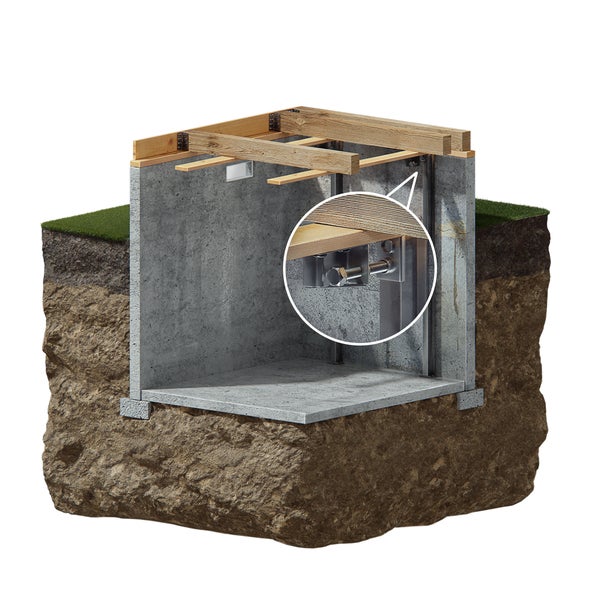 I-Beams
If you're short on space, SettleStop IntelliBrace™ I-beams are an excellent solution.
These steel I-beams are installed vertically on internal basement walls and braced to the basement floor and floor joists. By tightening the top bolt on the floor joists, pressure is exerted against the walls, holding them firmly in place.
This shifting of weight from the walls to the floor and floor joists offers much-needed structural support, which stabilizes basement walls for good.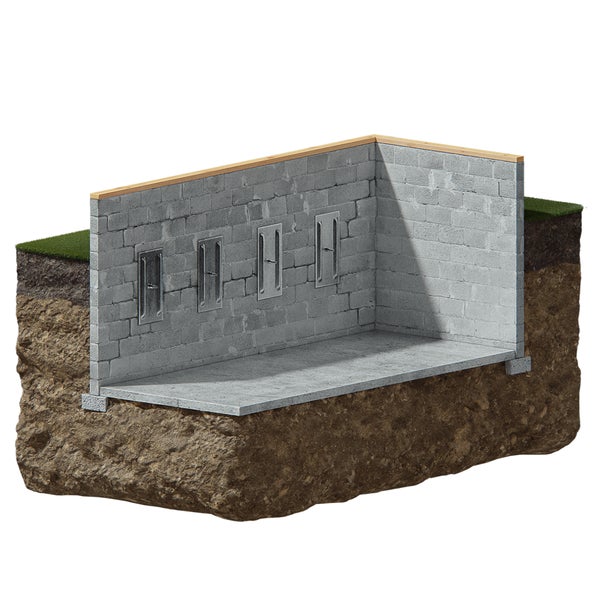 Wall Anchors
If you have walls with more severe damage, SettleStop Wall Anchors can provide a solution. Designed to offer the lateral support your walls require when they have cracked and shifted more than two inches inward, our specialized system can halt any further movement and possibly restore your walls to their original positions.
Our process involves placing anchor plates inside your walls and earth anchors outside the foundation. Our experts then use a specialized wrench to tighten the steel rods that join the plates, pulling the walls closer together. This provides the support your walls need, while also preventing any further damage.
SettleStop Pier Systems
If you are struggling with diagonal wall cracks, uneven floors, and stubborn doors and windows, it's essential to tackle the root cause – unstable soil beneath your home.
Our SettleStop pier systems effectively address this issue with a permanent solution. Not only do they prevent further settling, but these piers can potentially lift your sinking foundation and restore your home to its original position. Plus, we offer a lifetime, transferrable warranty for your peace of mind.
We install two types of pier systems – helical piers and push piers – both with the same function but differing in design and installation.
Here's how each pier system works: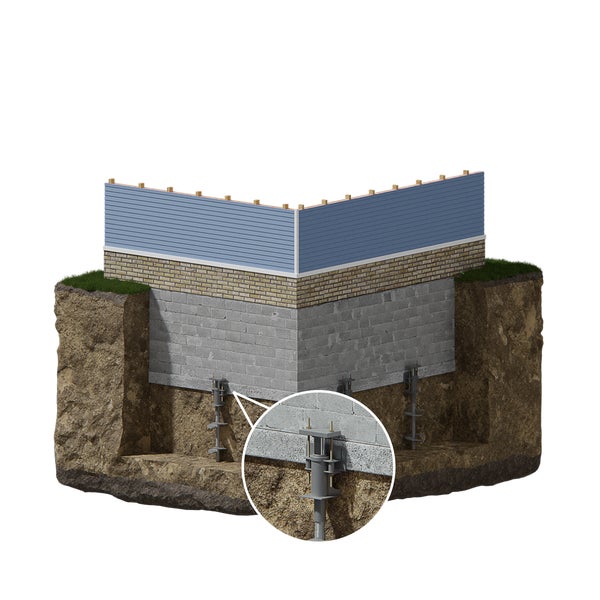 Helical Piers
A reliable way to stabilize homes, especially lighter structures, is with the SettleStop Helical Pier System. Utilizing steel piers with circular helical plates that act like screws, our advanced technology ensures your property is firmly secured in stable soil beneath your home.
Our installation process begins with excavating the soil to expose your foundation footing. We then strategically advance the piers into the ground using hydraulic equipment, carefully monitoring the process until the appropriate depth and capacity are reached. A steel bracket is secured to the footing, transferring the weight of your home down to the more stable underlying soil.
To ensure continued security of the system, our team uses laser levels to set benchmarks at the pier installation points, returning regularly to check the exterior rivets. Trust us to maintain your peace of mind when it comes to the safety of your property.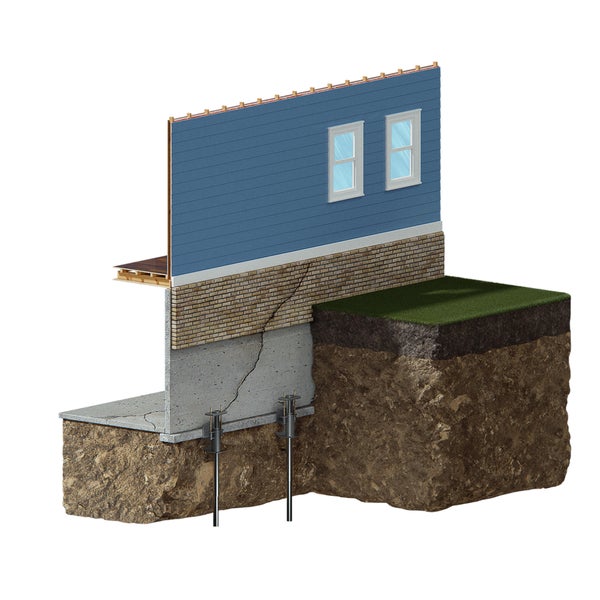 Push Piers
SettleStop Push Piers are similar to their helical counterparts, as this system uses steel rods to ensure long-term support. However, they lack helical blades and are best to use on heavier buildings.
When we install these piers, we remove soil around the footing, attach the footing bracket, and then push each pier section through the bracket until it reaches bedrock or more stable soil. Your foundation will have the strength it needs to remain stable.
We also install rivets as benchmarks on your exterior walls, ensuring accuracy and durable support.
SettleStop IntelliJack™ Crawl Space Support Posts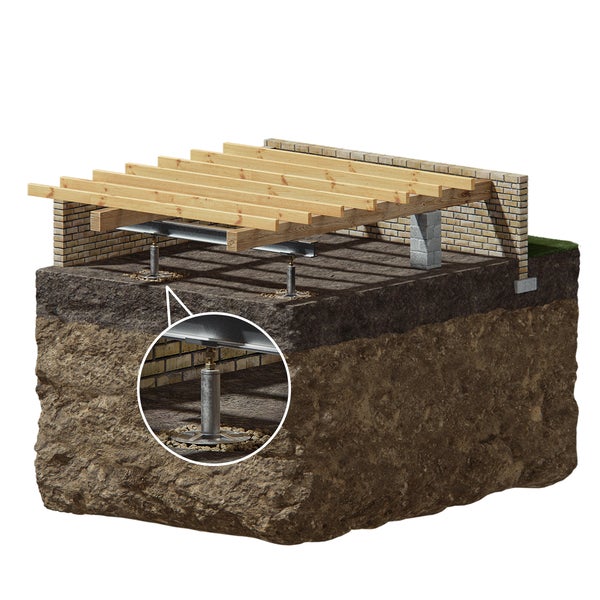 Creaking and sagging floors are annoying and dangerous, but they are not beyond repair. With SettleStop IntelliJack™ Crawl Space Support Posts, you can reinforce your weakened floor joists and stabilize your entire floor structure. Our adjustable posts are securely attached beneath the joists and support beams above for maximum stability.
Certified to meet industry standards, our supports can handle an allowable load capacity of more than 24,000 lbs. per jack. Say goodbye to unsafe and unsightly floors and hello to a sturdy and reliable foundation with SettleStop IntelliJack™.
At Indiana Foundation Service, we value your home as much as you do. As fellow homeowners, we understand how important it is to maintain a strong foundation, which is why we provide reliable tools and expert services to protect it. Our foundation stabilization techniques, sourced locally and backed by our trusted team, will give you peace of mind knowing your home is permanently secure. Trust us to safeguard your sanctuary.
View more Foundation Repair Solutions >>
Factors Affecting Foundation Repair Cost
Calculating the cost of your home repair project, particularly for foundation repairs, is crucial. Multiple factors affect the expenses, including:
Type of Foundation: The kind of foundation upon which your home was built can greatly impact the expenses involved in any necessary repairs. For example, differences in foundations mean that repairs for a house with a crawl space foundation will vary greatly compared to a building with a slab foundation.
Extent of Damage: The extent of damage to your home affects the project cost, with more significant issues such as foundation shifting or structural damage being pricier to repair. Smaller cracks, on the other hand, may not require substantial fixes.
Soil Conditions: The condition of your property's soil can greatly impact your repair costs. This is especially true if the soil has significant amounts of clay that cause problems by expanding and contracting with moisture changes.
Location: Foundation repairs come with different costs depending on the geographical location of your home. In areas with higher living costs or more stringent building codes, repair expenses may be higher.
The true cost of fixing your foundation boils down to the distinct condition, challenges, and repair needs of your house. Let's explore your options together.
Award-Winning Service
Visit Company (Opens in New Tab)
Visit Company (Opens in New Tab)
Visit Company (Opens in New Tab)
What to Expect from Indiana Foundation Service
Are you fed up with subpar contractors not delivering on their promises? Look no further than Indiana Foundation Service for exceptional service and utmost commitment to your satisfaction and your home's stability.
We prioritize communication, safety, and transparency in everything we do, ensuring that you are always informed and comfortable throughout the process. Our team treats your home with the utmost respect, going the extra mile to deliver top-quality workmanship and leaving your house spotless. You can trust us to treat your home with the same level of care and consideration as if it were our own.
Scheduling an Inspection: Scheduling an inspection with Indiana Foundation Service is a breeze. Simply choose the option that suits you best – give us a call, fill out our online contact form, or book an appointment directly on our website. Whichever you choose, we'll send you a confirmation email with comprehensive information about our company and our unique solutions.
48-Hour Confirmation Call: We want to ensure a smooth process for your inspection. To do so, we will reach out via call and text two days prior to the scheduled appointment to confirm the exact arrival time at your address.
On the Way Call: On the inspection day, our Certified Field Inspector will provide you with a heads-up call, so you know exactly when to expect them. What's more, our team will keep you in the loop with our GPS system, offering real-time location tracking for total peace of mind.
Arrival & Introduction: We know having a stranger in your home can be overwhelming. That's why our Certified Field Inspector makes a point to greet you warmly upon arrival. They're also ready to learn about your concerns about your home and give feedback. After that, they will present a comprehensive plan for the inspection they will conduct, including the specific areas they examine. You can put your mind at ease knowing you're in expert care.
The Inspection: Our inspector will thoroughly evaluate the inside and outside of your home, taking precise measurements and creating a comprehensive diagram. To aid in repairs, photographs may be taken with your consent. You can trust that any worries you had prior to our arrival will be fully addressed and resolved upon completion of the repairs.
Review of Outcomes: When we're done examining your house, we'll give you a thorough report and a repair plan. You get to choose which repairs you want to prioritize, and we'll provide you with all the information you need to make informed choices. Our estimates are also provided to you on the same day as the inspection, giving you clarity on costs and financing options from the start. Trust us to equip you with all you need to know so that you can make the best possible decision for your home.
Schedule Work: At IFS, your comfort and convenience come first. Once your repair plan is approved, we will schedule a date that works best for you. We're dedicated to providing top-notch protection, so our team handles the necessary work permits and has a licensed structural engineer to oversee the work whenever needed. Trust us to provide the safest, most professional service imaginable.