Water in Your Basement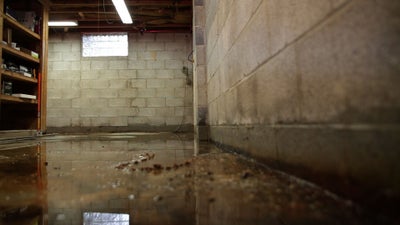 Regardless of how often you visit your basement, it can be quite alarming to see standing water or leaks. We understand that finding water in your basement, whether a small puddle or a major flood, is more than just an inconvenience. It can cause extensive damage and require costly repairs.
At Indiana Foundation Service, we empathize with your frustration and the damage caused by water in your basement. As Indiana's leading basement waterproofing experts, we have the solutions to effectively address and prevent water issues in your basement. 
What Is Water in Your Basement?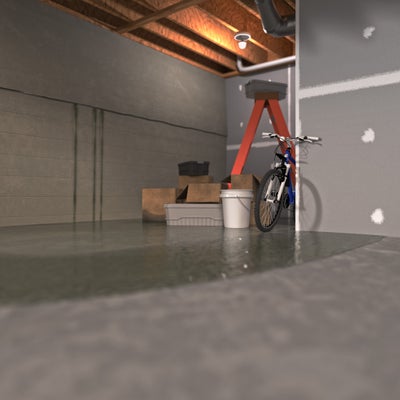 Basement water appears in varying forms, ranging from small puddles to widespread flooding.
Signs of water in your basement may also include:
Musty smells
Efflorescence
Increased humidity levels
Damaged belongings
The impact is not limited to visible water accumulation; it extends to other complications that affect the structural stability and value of your home, as well as the health of your family. Ultimately, water in your basement serves as a warning sign of underlying issues that require immediate professional attention.
What Causes Water in Your Basement? 
Factors causing basement water accumulation:
Weather Conditions: Heavy rain or snowmelt can overload drainage systems. A high groundwater table can rise to the basement level during wet seasons.
Poor Drainage: Faulty or inadequate drainage systems, including damaged gutters, downspouts, and footing drains, fail to divert water away from homes.
Incorrect Grading: Improper negative landscape grading directs water toward the foundation instead of away from it.
Hydrostatic Pressure: Saturated clay-based soils exert hydrostatic pressure on walls, leading to cracking, inward bowing, and leaks.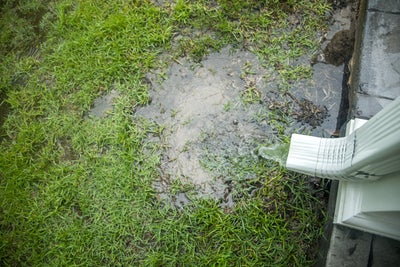 Wall Construction: Porous concrete walls and floors soak up water, causing leaks. Problems during concrete construction leave it vulnerable to water intrusion and damage.
Window Damage: Old, damaged, leaking windows allow rainwater intrusion.
Internal Leaks: Plumbing leaks, leaking water heaters, and faulty sump pumps contribute to basement water.
Identifying the cause is crucial to avoid recurrent problems. Indiana Foundation Service specializes in diagnosing and addressing underlying causes for long-term solutions instead of temporary fixes.
Can You Fix Water in Your Basement? 
Absolutely, we can help you with the water in your basement.
However, it takes more than do-it-yourself spot treatments like towels, wet/dry vacuums, and so-called "waterproof" sealants. While these may provide temporary relief, they do not address the root cause of the problem and may even lead to further damage.
We recommend taking a comprehensive, whole-home approach for a trustworthy, long-lasting approach.
At Indiana Foundation Service, we understand that every home is unique and requires tailored solutions. Our team will not only address the visible water but also work to prevent the conditions that allow water to enter your basement in the first place.
How to Fix Water in Your Basement 
Comprehensive basement waterproofing involves a few key steps:
Inspection: During a free inspection, our experts identify the root cause of the problem and recommend customized repair solutions.
Interior Drainage: A specially designed system is installed to drain water from the walls, floor, and cove joint in your basement. This includes an interior drainage system placed throughout the perimeter and sub-floor. The water is then directed into a sump pump system.
Sump Pumps: A robust sump pump system is installed at the lowest point of your basement. It gathers water from your interior drainage system and pumps it up, out, and away from your basement.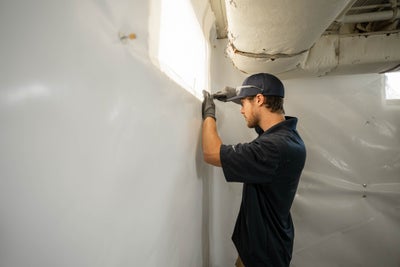 Exterior Sump Pump Discharge Line Attachment: Frozen drainage lines can be a problem in the winter. But don't worry; our special exterior sump pump discharge line attachment stops freezing and lets the water drain properly.
Dehumidifiers: An energy-efficient dehumidifier controls humidity, eliminates odors, and reduces mold growth opportunities. 
Wall Vapor Barriers: We offer thick, durable wall vapor barriers that prevent vapor intrusion. These barriers keep water out, even if there are leaks in the basement walls. Any water that seeps through the walls is directed behind the material and down to the perimeter drainage system.
We also provide basement repair measures like carbon fiber straps and wall anchors. These methods strengthen your basement walls for added support and are compatible with our other basement waterproofing solutions.
What sets us apart is our commitment to personalized solutions for your unique basement needs. Our proprietary waterproofing products are robust and reliable, and the comprehensive repair process aims to eliminate water in your basement beyond temporary fixes.
Why Address Water in Your Basement Now 
It is imperative to address basement water issues as soon as possible for several reasons:
Health Risks: Mold and mildew can lead to health problems and negatively impact indoor air quality.
Structural Damage: Water damage weakens the foundation of your home.
Personal Loss: Belongings stored in a damp basement can become moldy and damaged beyond repair.
Decreased Home Value: Unresolved water problems significantly reduce the market value of your home.
Costly Future Repairs: The longer you wait, the more expensive the repairs become.
Water in the basement tends to recur and worsen over time if not properly dealt with. At Indiana Foundation Service, we have proven solutions to permanently resolve basement water issues before they cause further complications.
Contact Indiana Foundation Service for Reliable Basement Waterproofing Solutions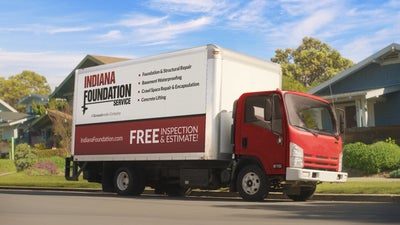 Water in your basement can be a hassle that may lead to more significant issues. Why take risks? Contact Indiana Foundation Service today for a complimentary and no-obligation inspection.
As Indiana's reliable source for basement waterproofing services, we pride ourselves in offering exceptional customer care and effective solutions. We understand the importance of your home's safety and your family's well-being.
FAQs
When it rains, water inevitably finds its way into your basement. This occurs due to the permeability of basement walls and floors, particularly when the ground is saturated. Another common entry point for water is through the wall-floor joint. 
The cost of fixing water issues in your basement varies based on factors like the extent of the damage and the solutions needed. It's important to address the problem as soon as possible to prevent further damage and costly repairs down the road. Don't hesitate to get in touch with us for a free, no-obligation inspection, transparent pricing, and flexible financing options. 
Usually, homeowners' insurance doesn't cover water in your basement because it's considered a maintenance issue rather than sudden damage. If you need clarification on the specifics of your policy, it's best to contact your insurance provider.  
Publish Date:
Last Modified Date:
Explore more problem signs