BasementGutter™ Interior Drainage System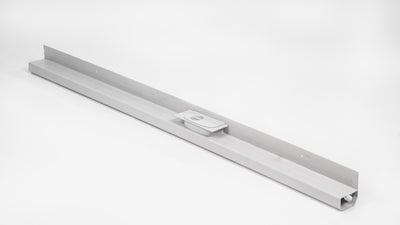 Dealing with a leaky, damp basement can be a homeowner's worst nightmare. Not only does it create a hazardous living environment, but it also threatens the structural integrity of your home.
That's where Indiana Foundation Service's BasementGutter™ Interior Drainage System steps in. It offers a definitive and long-lasting solution to your water leakage problem. As the leading authority in basement waterproofing throughout Central and Southern Ohio, we provide a comprehensive drainage solution tailored specifically to your needs.
This page provides valuable insights into why our specially designed interior drainage system is the best choice for maintaining a dry basement and ensuring the safety of your home.
What is BasementGutter™ Interior Drainage?
At Indiana Foundation Service, we understand how frustrating it can be when systems like footing drains and floor drains fail, leading to a wet basement.
That's why we offer a high-quality alternative. BasementGutter™ Interior Drainage is a state-of-the-art drainage system installed along the interior perimeter of your basement. This system redirects water that trickles down the walls or seeps through wall-floor joints to your sump pump for removal.
The installation is done in the sub-floor, strategically placed above the footing and away from the "mud zone," ensuring an anti-clog design. A 3/8″ wall flange ensures that any water leaking from the walls moves downward into the BasementGutter™ system.
This drainage system is not just a standalone solution; it is an essential part of a comprehensive whole-home waterproofing strategy, providing you with peace of mind and a healthier living space.
Signs You Need Interior Drainage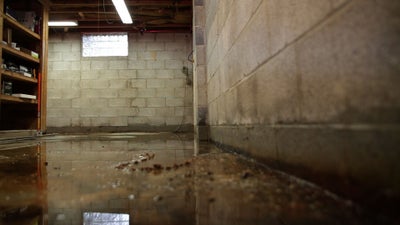 If you've noticed any of the following symptoms, consider installing an interior drainage system:
Excessive basement humidity
Efflorescence
Musty basement odors
These problems often begin small but have the potential to escalate quickly, leading to significant damage. When you notice any of these symptoms, we recommend contacting a local professional basement waterproofing company like Indiana Foundation Service right away.
Taking action early on can help you prevent extensive damage and avoid expensive repairs in the future.
Is Interior Drainage Necessary?
The answer is definitely yes! Failing to install an effective interior drainage system can lead to numerous problems, including structural damage and higher repair costs. It's important to address the issue as soon as possible.
Instead of attempting DIY basement waterproofing or quick fixes, which can be costly and complex, we highly recommend leaving basement waterproofing to experienced professionals like our team at Indiana Foundation Service.
By incorporating BasementGutter™ into our comprehensive whole-home solution, we ensure the safety and durability of your property.
What Are the Benefits of BasementGutter™?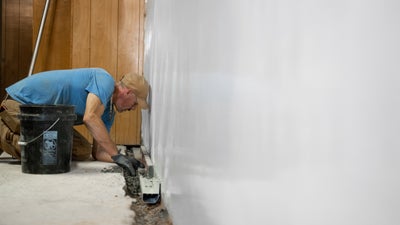 Prevents Water Damage: The BasementGutter™ system efficiently collects and redirects water away from walls and floors, preventing costly damage. Your belongings stay dry and the growth of mold is inhibited.
Compatible with Other Solutions: The drainage channels are designed to be easily installed with our other basement waterproofing solutions. We can also integrate it with other basement repair and foundation repair systems.
Extends Life of Foundation: By keeping water away from concrete walls and floors, BasementGutter™ safeguards your foundation from deterioration and cracking.
Provides Peace of Mind: Our reliable interior drainage system gives you the assurance that water is effectively managed. No more worrying every time it rains!
To maximize these benefits, it is crucial to utilize our proprietary solutions and services. We have engineered our products to surpass standard alternatives, ensuring you receive the best protection available.
How We Install BasementGutter™ Interior Drainage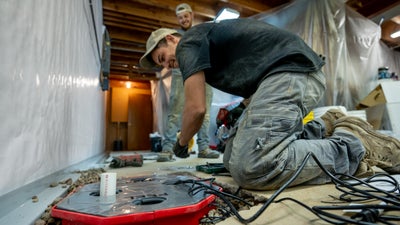 After we have inspected your home and confirmed the need for an interior drainage system, our certified installation process includes the following steps:
We will carefully remove 6-12 inches of concrete around the interior perimeter.
To facilitate water movement, we drill weep holes in the bottom courses of concrete block walls.
We will place the BasementGutter™ in the trench and backfill it with stone.
Next, we will set a vapor barrier on top for added protection.
We will connect the drainage channels to the sump pump.
Finally, we will pour cement to replace the concrete floor.
In addition to our comprehensive basement waterproofing approach, we also install a wall vapor barrier, a reliable dehumidifier, and an anti-freeze discharge line.
You can trust Indiana Foundation Service for expert installation and long-lasting results.
Why Our Interior Drainage is the Best Choice for Your Home
The BasementGutter™ Interior Drainage System is a top choice for several reasons:
Installed away from the "mud zone"
Advanced design prevents clogs
Effectively collects water from walls, floor, and wall-floor joints
Seamlessly integrates with other waterproofing components
Comprehensive warranty for added peace of mind
Annual maintenance service plans available for ongoing protection
Unlike PVC pipes and alternatives found in big-box stores, BasementGutter™ doesn't clog or sustain damage. It's an exclusive solution from Indiana Foundation Service that keeps your basement water-free for years to come.
Contact Indiana Foundation Service for Interior Drainage Solutions Today!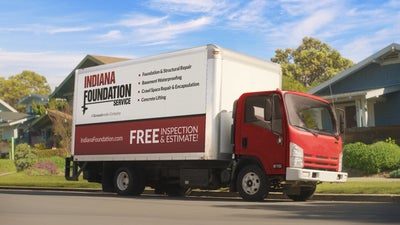 Don't worry about a leaky basement affecting the value and safety of your home. Trust Indiana Foundation Service for reliable and high-quality solutions. Contact us to schedule a free and no-obligation inspection.
Our interior drainage systems offer the best protection for your most valuable asset. Homeowners have relied on us for 15 years to repair and safeguard their homes. We are happy to assist you as well.
FAQs
Water typically enters your basement through cracks in walls or floors, leaking joints, seepage through porous concrete, or internal plumbing or appliance leaks. Improper landscaping or gutters can also direct water towards your foundation.  
Publish Date:
Last Modified Date: