Cracked Driveway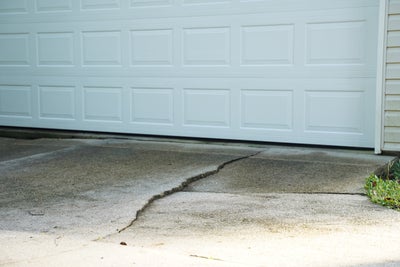 Although it is a common issue, a cracked driveway is something that homeowners should not ignore. Not only does it affect the aesthetic appeal of your home, but it also poses a hazard that can impact the safety of your property and your family.
Cracked and uneven driveway slabs can be a tripping hazard for anyone, especially those with mobility issues. Concrete cracks can also damage your vehicle and foundation.
At Indiana Foundation Service, we understand the importance of addressing this problem. We offer state-of-the-art and reliable concrete lifting solutions that are effective and long-lasting. Our commitment to excellence provides homeowners the peace of mind they deserve, as we work to restore their property's safety and beauty. 
What Is a Cracked Driveway? 
A cracked driveway is a concrete surface that has developed fractures, lines, or breaks over time. These imperfections range from minor, barely visible hairline cracks to more severe, large, and noticeable splits.
A driveway may have a single crack or multiple cracks spread across the concrete. Cracked driveways are not aesthetically pleasing and can pose significant safety risks, potentially leading to trips, falls, and injuries. 
If your driveway is cracking, your property may also have additional damage, including:
Cracked sidewalks
Sinking porch
Cracked pool deck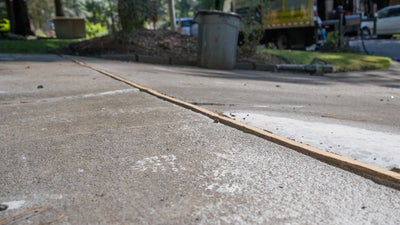 Concrete driveways are prone to cracking due to various factors, often requiring professional inspection and repair services—like the ones provided by Indiana Foundation Service—to address safety hazards and prevent further damage. Please don't hesitate to contact us immediately when you notice concrete issues.
What Causes Driveway Cracks? 
There are several reasons why concrete driveways develop cracks, including:
Soil Problems: When the soil underneath the driveway settles or erodes, it creates uneven stress and leads to cracking.
Trees: Tree roots that grow underneath or near the driveway can exert upward pressure and cause cracks.
Precipitation: Excessive rain or flooding can erode and undermine the soil.
Other Weather Issues: The freeze-thaw cycles allow water to seep into cracks and expand when frozen. Concrete naturally expands and contracts with temperature fluctuations over time.
Construction Issues: Improper concrete pouring or curing during the initial construction can make driveways more vulnerable to damage.
Heavy Vehicles: The heavy weight of vehicles strains concrete driveways and the underlying soil, resulting in cracks and sunken slabs.
These same factors that affect concrete driveways can also impact the foundation of your home. It is essential to address these issues promptly with a specialist like Indiana Foundation Service, who can provide the most effective solutions.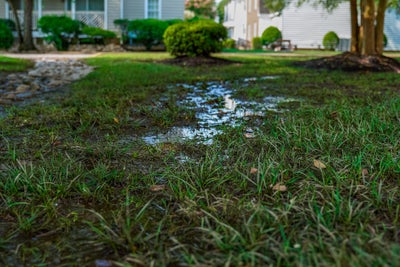 Can You Fix a Cracked Driveway? 
Yes, cracked concrete driveways can be fixed and restored to look new. However, it's essential to know repair options may become limited as cracks progress and expand. That's why it's crucial to schedule a professional inspection and repair for your driveway upon detecting any issues.
To truly fix them, more than just sealing the cracks with caulk or concrete filler, using outdated mudjacking techniques, or re-pouring concrete is required. These repairs offer temporary relief at best.
To properly repair cracks and uneven areas, the root causes, such as unstable soil, must be addressed. The best solution is concrete lifting, which raises sunken sections and stabilizes the driveway. Indiana Foundation Service offers specialized solutions to ensure every repair is completed accurately, yielding long-lasting results.
How to Fix a Cracked Driveway 
At Indiana Foundation Service, we take pride in providing certified concrete driveway repair services tailored to meet your specific needs. Our friendly and knowledgeable team follows a meticulous process to ensure the best results:
We start by conducting a thorough inspection of your driveway to identify the underlying cause of the damage.
Based on our findings, we recommend the most suitable repair solution, such as our innovative SettleStop™ PolyRenewal™ system.
To begin the repair process, we carefully drill small holes in the affected areas of your driveway.
Next, we place injection ports in these holes, which allow us to inject a specially formulated two-part polymer foam.
This high-quality foam expands and fills any voids, effectively lifting the concrete slabs and stabilizing the underlying soil.
The foam cures within 15 minutes, ensuring a quick and efficient repair.
Once the slabs are lifted and the soil is stabilized, we remove the injection ports and fill and smooth the drilled holes.
We apply a sealant to cracks and joints to help further protect your driveway and prevent future damage.
We recommend routine maintenance and monitoring your concrete driveway to ensure longevity.
Indiana Foundation Service distinguishes itself from competitors by using advanced products such as PolyRenewal™. This proprietary polyurethane foam solution allows us to provide precise and long-lasting repairs, surpassing traditional mudjacking methods and minimizing disruption to your property.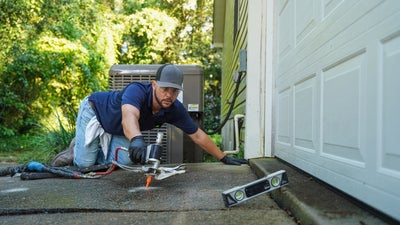 Why Address Driveway Cracks Now 
It's crucial to promptly repair cracked concrete driveways for several reasons:
Prevent Further Damage: By addressing cracks early, you can prevent more severe structural issues from occurring.
Ensure Safety: Unaddressed cracks can pose serious safety risks, potentially leading to accidents and injuries. Larger cracks are particularly hazardous for walking or driving, while even narrow cracks can catch heels or bicycle tires.
Enhance Property Value: Maintaining a well-kept driveway enhances curb appeal and can increase the overall value of your property.
Avoid Higher Repair Costs: The longer you wait to address the issue, the more extensive and expensive the repairs will become.
Don't settle for temporary fixes. Our PolyRenewal™ system can effectively restore your driveway to a like-new condition. Our concrete lifting solutions are designed to effectively stabilize cracked and uneven concrete.
Contact Indiana Foundation Service for Reliable Concrete Lifting Solutions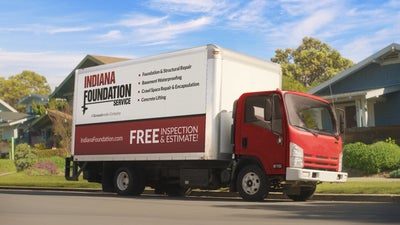 Don't let a cracked driveway diminish the safety and appeal of your home. If your concrete driveway is cracked, sunken, or uneven, the concrete specialists at Indiana Foundation Service can help. Contact us today to schedule a free inspection and estimate.
 That's why we proudly offer expert, reliable concrete lifting solutions that stand the test of time. Our PolyRenewal™ technology can quickly and precisely lift and stabilize sunken concrete slabs the right way the first time. 
FAQs
Yes, you can improve the appearance of concrete driveways by resurfacing or refinishing them. However, if there are cracks or unevenness, resurfacing only temporarily hides the problems that worsen over time. 
It's essential to have concrete cracking or sinking professionally inspected and repaired for long-lasting results. Indiana Foundation Service offers polyurethane injections to lift and stabilize concrete. Contact us today for a free inspection. 
Properly installed concrete driveways can last 20 years or more with everday use. However, most driveways will develop minor cracks and flaws over time.
Indiana Foundation Service specializes in repairing damaged concrete driveways and restoring their longevity with our comprehensive repairs and PolyRenewal™ process. Contact us today to learn more and schedule a free inspection.
We customize our solutions to suit your needs. Installation times vary depending on factors such as the extent of the damage, type of repair, and amount of product used. Our PolyRenewal™ system can lift sunken concrete sections in as little as 15 minutes. The entire repair process usually requires less than one day for completion. Contact Indiana Foundation Service for a free inspection and an accurate project timeline. 
Publish Date:
Last Modified Date:
Explore more problem signs