AquaStop™ ExTremeBloc™ Crawl Space Insulation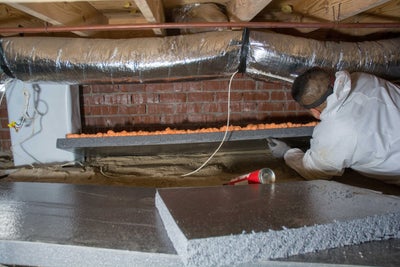 High energy bills, cold floors, and drafts can pose significant challenges for homeowners. These issues often indicate crawl space moisture problems that can worsen if unaddressed.
Proper insulation in your crawl space is crucial for a comfortable and healthy home. Without insulation, your house becomes susceptible to moisture, mold growth, and pest infestations. Insulating your crawl space prevents these problems and improves your home's energy efficiency.
At Indiana Foundation Service, we offer a reliable solution: AquaStop™ ExTremeBloc™ Crawl Space Insulation. As experts in creating healthier homes in Indiana, we provide crawl space encapsulation that effectively addresses current issues and prevents future problems.
What is Crawl Space Insulation?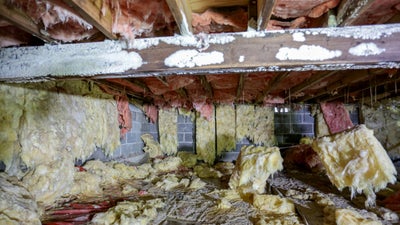 Crawl space insulation is essential for improving home energy efficiency and indoor air quality. It acts as a barrier against heat loss, prevents mold growth, and deters pest infestation.
To properly insulate a crawl space, it is vital to use a reliable material like ExTremeBloc™, which is specifically designed for damp conditions.
When combined with crawl space encapsulation, which involves sealing the area from the earth and outside air, ExTremeBloc™ provides additional benefits such as regulated humidity levels, reduced energy costs, and improved air quality.
Indiana Foundation Service prioritizes crawl space repair as part of our comprehensive approach to maintaining a healthy home. This ensures a more comfortable living space and robust structural integrity.
Signs You Need Crawl Space Insulation
Recognizing signs of crawl space insulation issues can save you money:
Cold floors in winter
Musty odors
Allergies or asthma symptoms
These symptoms indicate moisture problems that can lead to serious consequences. Schedule a free inspection with crawl space professionals when you notice these issues.
Is Crawl Space Insulation Necessary?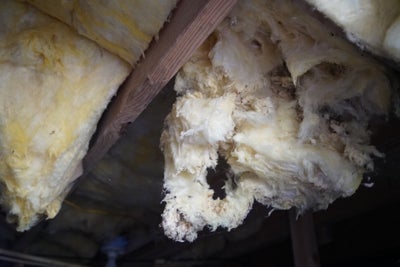 Insulating your crawl space is necessary to protect your home. It prevents moisture and humidity from increasing, which can lead to mold growth and respiratory problems. Damaged insulation also allows pests and rodents to enter your home. At Indiana Foundation Service, we prioritize early intervention to maintain the structural integrity of your home and the health of its occupants.
We strongly advise against attempting DIY inspections or insulation for your crawl space. It can be dangerous, and generic solutions from big-box stores do not address the underlying issues. Trust the professionals at Indiana Foundation Service to accurately assess, repair, and protect your crawl space.
What Are the Different Kinds of Crawl Space Insulation?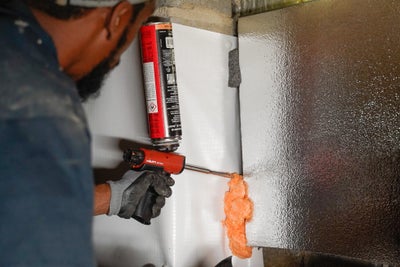 There are three common types of insulation used in crawl spaces:
Fiberglass Insulation: It is widely used in homes, but it is not suitable for crawl spaces due to its vulnerability to moisture, mold, and pests.
Spray Foam Insulation: This type of insulation can be sprayed onto walls, floor joists, and rim joists. However, it is not recommended for crawl spaces because it may lead to mold, chemical odors, and termite damage.
Foam Board Insulation: For more effective crawl space insulation, consider using large, pre-formed sheets like ExTremeBloc™. These panels can be cut and installed on interior walls, improving heat retention and insulation value.
ExTremeBloc™features reflective surfaces and provides exceptional insulation performance, even with its reduced thickness compared to other fiberglass types.
What Are the Benefits of Crawl Space Insulation?
Installing the proper crawl space insulation has several benefits:
Moisture Control: Insulation prevents moisture from entering your home, preventing mold growth, pest infestations, and other issues caused by ground moisture.
Enhanced Energy Efficiency and Cost Savings: Proper insulation reduces the workload on your air conditioner and furnace, resulting in lower energy bills. It also helps to keep your home cool in the summer and warm in the winter, saving energy and reducing heating and cooling costs.
Improved Indoor Comfort: Insulation panels create a more comfortable home environment by keeping floors warmer in winter and cooler in summer. Insulation also contributes to better air quality, making your home healthier for your family.
Pairing our advanced solutions and professional services is essential for optimal results. Our products, developed with cutting-edge technology and high-quality materials, outperform standard options, providing unparalleled benefits to your home.
How We Install Crawl Space Insulation
Crawl space encapsulation involves: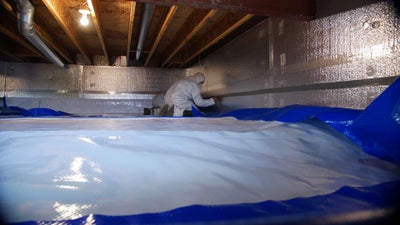 Trust Indiana Foundation Service for professional crawl space insulation and encapsulation installation.
Why Our Crawl Space Insulation is the Best Choice for Your Home
Indiana Foundation Service's ExTremeBloc™ foam board insulation stands out for the following reasons:
Lightweight, durable panels
Eco-friendly materials
Class A fire rating
Graphite-infused, expanded polystyrene body
Radiant heat barrier coating
Integrated termiticide and pest deterrent
High R-value for superior thermal resistance
Moisture resistant
Installed with a gap for pest control inspections
Contact Indiana Foundation Service for Crawl Space Insulation Today!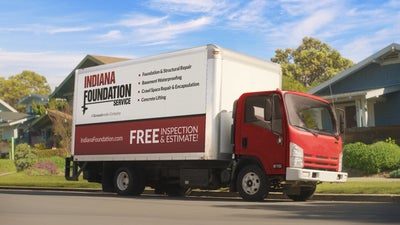 At Indiana Foundation Service, we recognize the significance of having a well-insulated crawl space. Our friendly staff is ready to assist you with all your crawl space repair requirements. With over 30 years of experience serving homeowners in Indiana, we have the knowledge to promptly and effectively install crawl space insulation.
We offer a variety of solutions to accommodate your needs and budget, and we stand behind our work with a quality guarantee. Indiana Foundation Service provides free inspections and estimates, allowing you to make an informed decision regarding the optimal approach for addressing your home's needs.
FAQs
R-value measures the thermal resistance of building materials like crawl space insulation. Higher R-values indicate better heat retention. The R-value depends on insulation type, material, and installation method. Contact us for a free crawl space inspection and to learn more about Indiana Foundation Service's reliable crawl space insulation and R-value.
Many insulation types last 15 to 20 years but may suffer from mold and moisture issues if the crawl space is improperly sealed and encapsulated. However, Indiana Foundation Service's ExTremeBloc™ rigid foam board insulation is a permanent solution. Contact us to learn more and schedule a free crawl space inspection. 
The price varies depending on the extent of damage, crawl space size, and required repair solutions. After a free crawl space inspection, Indiana Foundation Service experts will provide a no-obligation estimate detailing the costs and financing options available.
Publish Date:
Last Modified Date: