AquaStop™ CrawlSeal™ Crawl Space Vapor Barrier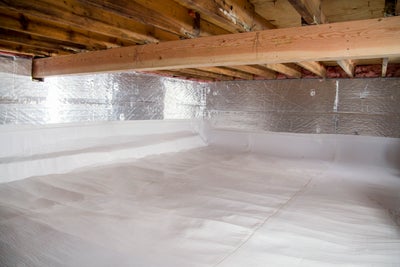 At Indiana Foundation Service, we understand that dealing with crawl space moisture is more than just an inconvenience. It poses a significant threat to your home's structure and your family's health.
That's why we're here to help as trusted experts in crawl space solutions. Our AquaStop™ CrawlSeal™ vapor barrier offers a definitive solution to these issues through our specialized crawl space encapsulation process.
As the local authority in crawl space encapsulation, we provide a protective shield against moisture, ensuring the health and longevity of your home.
What is a Crawl Space Vapor Barrier?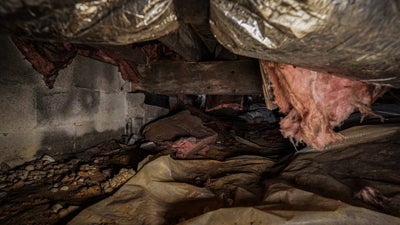 A crawl space vapor barrier is a thick plastic liner that covers walls and exposed dirt floors in crawl spaces. Its purpose is to prevent water vapor from rising into the crawl space, addressing excessive moisture issues. You can protect against dampness, mold growth, wood rot, and pest infestation by installing a vapor barrier.
At Indiana Foundation Service, we use CrawlSeal™, a robust and multi-layered liner, as part of our comprehensive approach. This barrier is highly effective in protecting your home's structure from the damaging effects of moisture. By safeguarding your crawl space it contributes to the overall health of your home, offering a complete whole-home solution.
Signs You Need a Crawl Space Vapor Barrier
Signs it's time for a crawl space vapor barrier:
These issues indicate excessive moisture, drainage problems, and damage. Stay vigilant for a safe and healthy home. Consult with crawl space professionals when you notice a problem.
Is a Crawl Space Vapor Barrier Necessary?
Yes, it is necessary to add a vapor barrier if your crawl space shows signs of dampness or humidity. Without a vapor barrier, moisture can freely enter your crawl space, causing damage and increasing repair costs.
DIY installations using thin liners from big-box stores are not recommended as they do not provide sufficient protection for the crawl space and can result in future damage and costly repairs. At Indiana Foundation Service, we offer encapsulation solutions that protect your home and are crucial for overall home health.
What Are the Benefits of a Crawl Space Vapor Barrier?
A vapor barrier like our CrawlSeal™ helps in many ways:
Improved Air Quality: Blocks moisture, reduces mold and mildew, and enhances the home's air quality.
Enhanced Structural Integrity: Protects home's structural integrity from ground moisture.
Energy Efficiency: Insulated crawl space leads to better energy efficiency and lower bills.
Pest Deterrence: Vapor barrier and moisture management solutions create an environment less attractive to pests.
Our puncture-resistant and antimicrobial CrawlSeal™ liner, paired with the encapsulation process, keeps the crawl space clean, dry, and breathable year after year.
How We Install a Crawl Space Vapor Barrier
A crawl space encapsulation system involves several steps:
Trust Indiana Foundation Service for reliable and long-lasting installation. Our local experts will ensure your crawl space is well-protected.
Why Our Crawl Space Vapor Barrier is the Best Choice for Your Home
Our CrawlSeal™ system surpasses other barriers in the following ways:
It has a durable 20-mil thickness.
It possesses antimicrobial properties.
It's resistant to mold, mildew, and punctures.
It can be custom-fit to different surfaces.
It has a reflective white finish that brightens the space.
It comes with long-term, transferrable warranty coverage.
It provides ongoing protection through annual maintenance.
Contact Indiana Foundation Service for Crawl Space Encapsulation Today!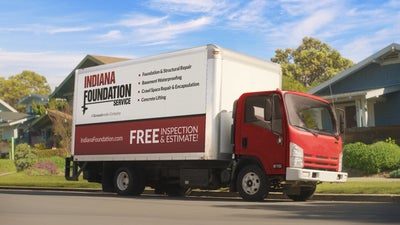 You don't have to live with the unpleasant and unhealthy consequences of a damp crawl space. Indiana Foundation Service is here to provide you with a drier and healthier crawl space using our CrawlSeal™ vapor barrier. Our effective solutions address the root cause of moisture problems and will make a positive difference in your home.
For over 30 years, Indiana homeowners have trusted our innovative solutions. We are excited to offer our assistance to you as well. Schedule a free inspection and take the first step toward a more secure home. Contact us today!
FAQs
We do not recommend DIY installations, which can be dangerous, expensive, and temporary. Professional installation ensures proper fitting, sealing, and evaluation of your crawl space for additional issues. Contact Indiana Foundation Service for a free crawl space inspection and encapsulation estimate.
Installation time varies depending on crawl space size, existing damage, and necessary repairs. A typical vapor barrier installation can be completed within a day or two. Contact Indiana Foundation Service for a free crawl space inspection, estimate, and timeline.
Minimal maintenance is required, but we offer an annual service plan to ensure optimal performance. We inspect the crawl space and its current solutions, including the vapor barrier, to confirm ongoing protection. Contact us to learn more and schedule a free inspection.
Publish Date:
Last Modified Date: