Bowing Basement Walls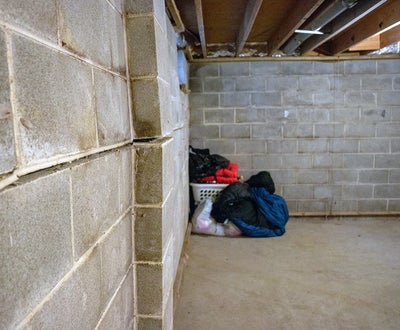 Basement walls are intended to be stable and upright, not leaning as if ready to cave in.
Bowing basement walls are not just a concern—they're an immediate hazard that need the right basement repair solutions.
At Indiana Foundation Service, we understand that walls buckling inward signal urgent structural problems that demand quick action.
Through this guide, you will gain valuable insights into dealing with bowing basement walls, ensuring your home's safety and structural integrity.
What Are Bowing Basement Walls?
Basement walls are primarily underground, exposing them to damaging elements that lead to problems such as inward bowing. This inward bulging is usually most noticeable in the middle of the wall.
You may not be able to detect the slightest movement, but sometimes it is quite prominent. Additionally, you might also observe signs like:
Horizontal cracking on the wall surface
Stair-step cracks along mortar joints in block walls
Diagonal cracks at corners of poured concrete walls
What Causes Basement Walls to Bow?
Several factors can contribute to basement walls bowing inward, such as: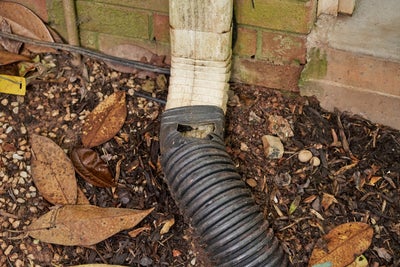 Inefficient Drainage and Moisture Management: With Indiana's variable climate, proper drainage systems like gutters, downspouts, and downspout extensions are crucial for effective water management. Poor drainage, such as the damaged downspout extension seen here, results in saturated soil around the walls, causing increased pressure.
Soil Type and Hydrostatic Pressure: Indiana sees a fair amount of annual precipitation. Soils containing clay, for example, are prone to expansion and contraction as moisture levels fluctuate. This change exerts hydrostatic pressure on basement walls, causing them to bow and crack.
Freeze and Thaw Cycles: Seasonal fluctuations in temperature also impact basement walls. The water freezing and thawing cycle within the walls generates pressure, leading to wall bowing and cracks.
Shifting Foundation: While it is a separate issue, a moving or settling foundation can also be linked to bowing basement walls. These movements result in uneven stress on walls, making them bow inward.
Poor Construction Quality: Occasionally, construction oversights, like the use of subpar materials or missing crucial steps during preparation, can lead to walls being more susceptible to bowing.
Can Bowing Basement Walls Be Fixed?
Yes, the majority of bowing basement walls can be repaired. Correctly identifying the root cause is vital for effective treatment and prevention. Indiana Foundation Service is the trusted name to accurately diagnose and offer customized solutions for your specific situation. We are pleased to provide free, no-obligation inspections to homeowners throughout Central and Southern Indiana.
Repair Techniques for Bowing Walls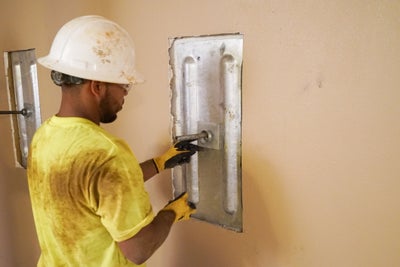 Several methods can be employed to restore structural stability, such as:
Carbon Fiber Straps: Heavy-duty carbon fiber straps bond to the wall to counteract the forces causing bowing. They hold the wall in its current position and are ideal for walls that have moved less than two inches inward.
Steel I-Beams: Steel I-beams have been used for many years to support and stabilize the bowing areas while relieving some of the wall's pressure. However, our state-of-the-art beam system can be adjusted to help improve the wall's condition.
Wall Anchors: Durable wall anchors, which you can see here, bolt to the inside of the wall and are secured in stable soil away from the wall to counteract inward bowing. They also can be tightened to help straighten the wall over time.
Additionally, options to control the water in the soil around your basement walls include:
Indiana Foundation Service employs high-grade materials and methods to address the root causes of wall bowing. For accurate diagnoses and solutions tailored to your home, contact us for a free and thorough assessment.
Why You Should Act Immediately
Neglecting timely repairs makes things worse. Here's why:
Bowing worsens over time due to increasing soil pressure and water damage.
Cracks widen, leading to more water intrusion that further deteriorates the walls.
Buckling walls cannot support the structure and floors above.
Severe bowing can result in catastrophic wall failure and potential collapse.
Repairing the walls becomes increasingly invasive and costly if damage continues.
Indiana Foundation Service provides comprehensive evaluations and customized solutions to homeowners dealing with bowing basement walls, effectively preventing future issues.
Choose Indiana Foundation Service for Long-Lasting Repairs
Prioritizing other home repairs before addressing bowing basement walls is tempting but dangerous. Don't compromise your home's safety and structural integrity; contact local repair professionals right away.
For 30 years, Indiana Foundation Service has used advanced diagnostics and top-tier wall reinforcement technologies for durable, permanent fixes. Don't hesitate to reach out to us for reliable, long-term solutions to your bowing basement wall problems. Schedule your free inspection today!
Basement Bowing Walls FAQs
Yes, Indiana Foundation Service offers non-invasive solutions like carbon fiber straps and specialized wall braces that can stabilize bowing basement walls without requiring extensive excavation. 
The duration of the repair process depends on several factors, such as the severity of the bowing and the chosen repair method. Our experts will assess your specific situation and provide an estimate of the timeline during the consultation. 
Yes, we stand behind our work and offer comprehensive, long-term warranties for our bowing basement wall repair solutions. The specifics are discussed during the consultation. 
Publish Date:
Last Modified Date:
Explore more problem signs