IntelliBrace™ Basement Wall Repair System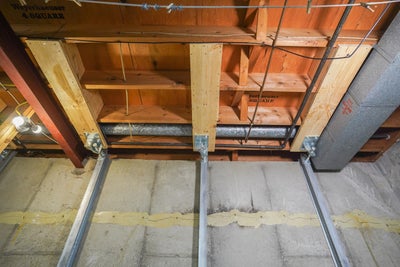 Cracking and leaning basement walls are a serious concern and should not be present in your home. Walls in this condition jeopardize your property and your family's safety.
Take control with an innovative and permanent solution that tackles these challenges head-on.
Choose Indiana Foundation Service, the region's leader in trusted basement repair, to fortify your home's structural integrity.
By the end of this page, you'll gain insights into the benefits, necessities, and installation process of our IntelliBrace™ beams, allowing you to make the most informed decision for your home. 
What Are IntelliBrace™ Beams?
IntelliBrace™ beams are a patented technology meticulously engineered to stabilize weakening basement walls.
Unlike conventional I-beams, these beams are firmly anchored to the floor joists and the concrete floor, maximizing stability. They halt any further wall damage and provide for future adjustments.
The IntelliBrace™ beams can be progressively tightened, nudging bowed or tilted walls back to a more vertical alignment.
Problems Solved by IntelliBrace™ Beams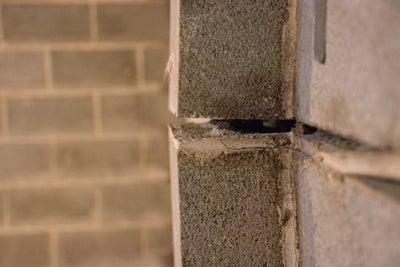 Absolutely. Delaying structural repairs in your basement exacerbates the problem and increases eventual repair costs.
Early adoption of IntelliBrace™ beams ensures the safety and integrity of your home.
We understand that no two homes are alike, so we offer custom solutions tailored for your home and its specific repair needs. These alternative products include wall anchors, channel anchors, and carbon fiber straps.
Speak with our team for a free, no-obligation inspection and personalized estimate for your home's basement repair needs.
Benefits of IntelliBrace™ Beams
Minimal Installation Disruption: There is no need for exterior excavation, and the beams require minimal space inside your basement.
Enhanced Stabilization: Superior stability compared to traditional I-beams.
Durable and Damage-Resistant: Our beam system is treated to resist rust and corrosion for long-lasting strength.
Potential for Wall Straightening: The beams allow for gradual adjustments to straighten your walls over time.
Unmatched Quality: Our exclusive product ensures you receive the best solution available.
How We Install IntelliBrace™ Beams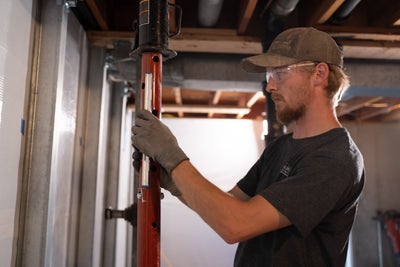 Comprehensive Inspection: Our experts will assess your basement's specific conditions and needs.
Custom Beam Cutting: Beams crafted from durable, rust-resistant material are cut to fit the height of your basement walls.
Joist Attachment: Beams are fastened to a floor joist near the top of the wall, ensuring the floor structure remains intact.
Beam Alignment: Each beam is aligned vertically, ensuring maximum effectiveness.
Floor Anchoring: Beams are secured to the basement floor, fully spanning the height of the walls for maximum stability.
Post-Installation Tightening: Beams can be tightened over time to adjust the position of the walls, a feature best managed by our team during annual service checks.
Why Choose IntelliBrace™ Beams from Indiana Foundation Service
Attempting DIY repairs with store-bought products offers temporary relief from bowing and cracking basement walls, and the endeavor can be time-consuming and dangerous.
You and your home will benefit from professionally installed solutions in many ways, including:
Advanced Design: Our unique system goes beyond standard I-beams.
Longevity: The IntelliBrace ™ system is built to last and perform effectively over time.
Ongoing Maintenance Plan: Our service and maintenance programs keep your system working at peak efficiency.
Contact Indiana Foundation Service for Trusted Wall Repair Today!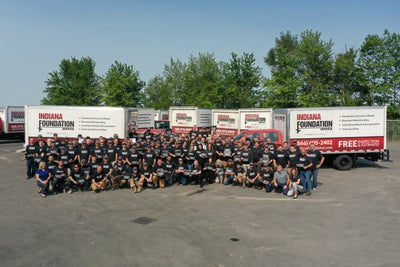 A bowing and cracking basement wall puts your home and family's safety at risk. Don't wait until minor issues turn into major problems.
Trust Indiana Foundation Service and our IntelliBrace™ beams to resolve your basement wall issues. Our team has been repairing and protecting homes throughout Indiana for 30 years. Schedule a free, no-obligation inspection today.
Periodic adjustments, usually annual, are best left to the expert team at Indiana Foundation Service. 
The beams will be visible but minimally intrusive. Their presence ensures safety and can be concealed when finishing your basement. 
Most installations are completed within a day, but timelines can vary. Consult our team for specifics.