Push Piers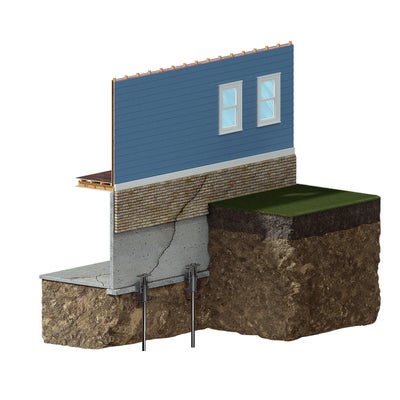 A stable foundation is crucial for the structural integrity and safety of your home. Any foundation settling can put your family at risk. It's important to inspect and repair any damage, such as drywall cracks or sticking windows and doors, without delay.
Many homeowners in Central and Southern Ohio face such problems, but Indiana Foundation Service offers a solution. Our SettleStop™ Push Piers are designed to permanently stabilize and potentially lift your foundation. We are a trusted leader in foundation repair and offer comprehensive solutions to keep your home safe and secure.
This page will guide you through what push piers are, why they are necessary, and the advantages of choosing our products and services.
What Are Push Piers?
Push piers are steel structures that are mechanically driven into the soil beneath your home's foundation. These piers are installed deep into the ground, bypassing expansive soils until they reach bedrock or steadier load-bearing strata. This provides a stable support system for your foundation.
Push piers are sometimes referred to as resistance piers because they are driven into the ground until they meet resistance.
Push piers are part of a whole-home solution that includes other foundation, basement, crawl space, and concrete repair methods. This comprehensive and permanent solution ensures the long-term structural integrity of your home.
Signs You Need Push Piers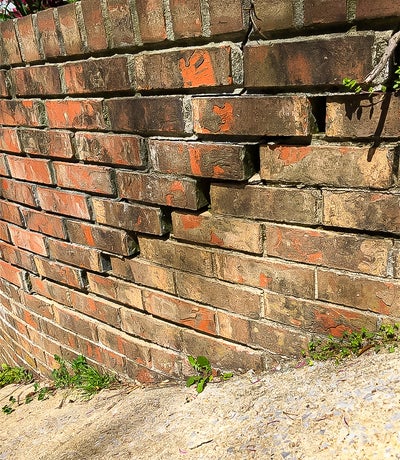 Your house typically requires push piers when there are clear indications of foundation settling, such as:
Drywall cracks
Drywall nail pops
Floor gaps
Ignoring these signs can lead to worsening problems that will cost more to repair in the long run. Contacting a local foundation repair specialist, such as Indiana Foundation Service, is imperative to prevent further damage.
Are Push Piers Necessary?
Delaying foundation repair can worsen issues such as foundation settlement, which can cause more extensive and costly damage over time. Our whole-home solution approach includes push piers as a crucial element to stabilize your foundation and potentially lift it back to its original position. Acting sooner rather than later can save you stress and money.
It's important to note that push piers aren't the only solution for foundation settlement. Indiana Foundation Service also offers other foundation pier systems, such as helical and slab, that may be beneficial for your home. During a free inspection, our experts will assess your unique situation and determine the best option for you.
What Are the Benefits of Push Piers?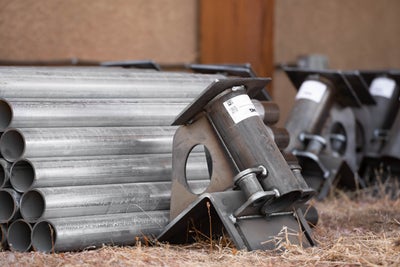 Our pier systems are renowned for their exceptional strength and durability. Every installation is tailored to your specific home, ensuring it can benefit from a variety of advantages, including:
Permanent Stability: Push piers offer a long-term solution by stabilizing your foundation permanently.
Preventing Further Damage: Push piers delve deep into the ground to transfer the weight of your home to stronger soil or bedrock. This prevents future settling and damage.
Potential for Lifting: In addition to stabilizing, push piers have the potential to lift your foundation back to its original position. This eliminates cracks and gaps caused by uneven settling.
Tailored Support: Our piers are installed to precise depths based on your home's unique needs, providing tailored support. With our galvanized steel piers, you get superior strength and longevity.
Comprehensive Structural Repairs: We combine push piers with our suite of proprietary solutions, including wall reinforcement and basement waterproofing measures, for complete foundation stabilization.
Long-term Warranty: Our push piers come with a comprehensive warranty that is guaranteed for the life of the structure.
It's essential to use Indiana Foundation Service's proprietary push piers to take full advantage of foundation repair benefits. Our specialized products and services are developed with the homeowner in mind and provide superior advantages over generic products.
How We Install Push Piers
Our technicians are certified and follow a precise installation process with the following steps:
Excavate down to the footer of the home.
Attach a special footing bracket.
Assemble pier sections.
Mechanically push pier sections into the ground.
Monitor depths and capacities.
Cap off the piers.
Transfer the load to more stable soil.
Place rivets in exterior walls as benchmarks.
Backfill and restore excavation sites.
Indiana Foundation Service is the top choice for professionally installed push piers. As a leading foundation repair provider in Ohio, we have the necessary expertise to tailor pier solutions to meet your home's specific needs.
Why Our Push Piers Are the Best Choice for Your Home
Our SettleStop Push Pier System stands out for the following reasons:
Industry-leading steel quality
External sleeve for added strength
Below-grade solution that is not visible after installation
Benchmark installation and check-up
Comprehensive lifetime warranty for protection
Opportunity to subscribe for an annual maintenance service plan
Year-round installation available
Contact Indiana Foundation Service for Push Piers Today!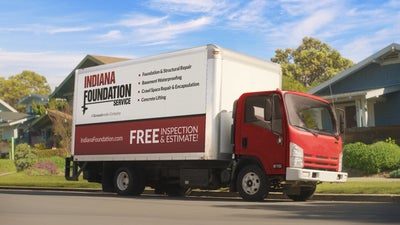 To avoid further damage to your home caused by foundation settlement, it is important to take prompt action. Delaying repairs can worsen the damage over time.
Contact Indiana Foundation Service to schedule a free inspection without any obligation. Our push piers are a reliable solution that can permanently stabilize your foundation and even lift it back to its original position.
We are committed to providing excellent customer service and high-quality solutions. Homeowners throughout Central and Southern Ohio trust us for their foundation repair needs. Call us today!
Push Pier FAQs
The cost of the project will depend on factors such as the extent of damage and number of push piers needed. During a free inspection with Indiana Foundation Service, our experts will assess the need for piers and provide you with a detailed breakdown of costs, as well as financing and payment options. 
The timeline for installation varies based on the severity of the problem, location of installation, and number of push piers required. An Indiana Foundation Service inspector will give you an accurate project schedule during a free inspection appointment. 
We excavate small areas around the foundation in a strategic manner to reach the footer. After installation, we restore these areas to minimize any disruption to your landscape. Contact Indiana Foundation Service for a free inspection and more information.