Carbon Fiber Basement Wall Reinforcement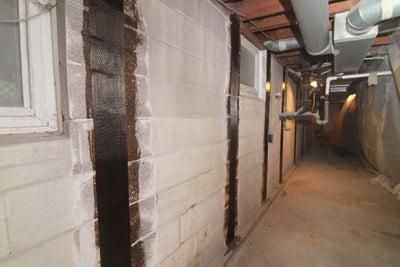 While cracking and bowing basement walls are common problems, they should not be overlooked.
These issues jeopardize your home's structural stability and your family's safety. They also significantly reduce your home's market value.
However, there's no need to panic. Indiana Foundation Service offers a reliable solution: Carbon Fiber wall reinforcement. As a trailblazer in basement repair, we bring you a proven, cost-effective way to fortify your basement walls long-term.
By reading this page, you'll gain the information needed—from what carbon fiber straps fix to how we install them—to make an informed decision for your home.
What Is Carbon Fiber Basement Wall Reinforcement?
Carbon Fiber Basement Wall Reinforcement is a sophisticated solution that stabilizes and fortifies basement walls showing signs of damage like cracking and bowing.
Carbon fiber, whose strength is 10 times greater than steel post-installation, forms the core of this solution. Low-profile carbon fiber straps are applied to the walls, forming a secure bond, making them highly effective for walls with minor to moderate damage—such as those with less than two inches of inward movement.
Unlike conventional steel beams, Carbon Fiber straps are unobtrusive and space efficient.
Signs You Need Carbon Fiber Basement Wall Reinforcement
If any of the following warning signs are present, Carbon Fiber wall reinforcement might be right for your home: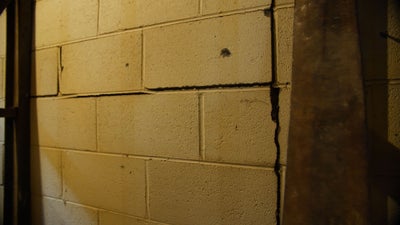 Other solutions may be recommended for more severe cases. These products include wall anchors, channel anchors, or wall braces. Contact us for a free evaluation to decide the best option for your home.
Is Carbon Fiber Basement Wall Reinforcement Necessary?
Absolutely, yes. The sooner you act, the less costly the repairs will be.
Carbon Fiber wall reinforcement is an integral part of Indiana Foundation Service's whole-home repair strategy, helping your home remain robust and safe for many years to come.
What Are the Benefits of Carbon Fiber Basement Wall Reinforcement?
Unmatched Structural Strength
Carbon Fiber technology provides unparalleled reinforcement to your basement walls, halting further damage like cracking and inward bowing.
Minimal Aesthetic Impact
The low-profile design of Carbon Fiber straps ensures minimal visual intrusion, and they can easily be concealed when you finish your basement.
Long-Lasting Effectiveness
Carbon Fiber does not employ metal, so it resists corrosion, yet it is 10 times stronger than steel once it is installed. These characteristics make this solution a long-term repair that outperforms traditional methods.
For optimal benefits, it is essential to use Indiana Foundation Service's proprietary solutions, which are developed to offer superior performance and longevity compared to off-the-shelf products.
How We Install Carbon Fiber Basement Wall Reinforcement
Our installation process is as follows:
Evaluate the condition of the basement wall
Mark designated strap installation points
Prep the wall surface
Attach a bracket to the sill plate
Apply a strong epoxy adhesive
Secure the Carbon Fiber strap
Thread the strap through the sill plate bracket
Apply a second coat of epoxy
Ensure secure bonding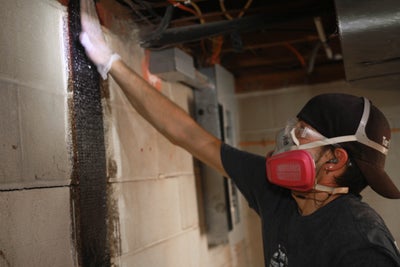 Trust Indiana Foundation Service for precise installation that promises enduring wall stability.
Why Our Carbon Fiber System Is the Best Choice for Your Home
Superior tensile strength
Minimal visual disruption
Effective prevention against wall cracking and bowing
Seamless integration with other Indiana Foundation Service solutions
Company-exclusive technology
Comprehensive annual maintenance service plans
Contact Indiana Foundation Service for Carbon Fiber Wall Reinforcement Today!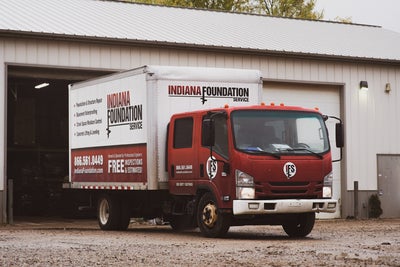 Cracked or bowing walls are a concern, but they don't lead to disaster when detected early and addressed properly. Trust your home's needs to Indiana's premier basement repair company.
With more than 30 years of experience, our team at Indiana Foundation Service is your reliable partner for long-lasting wall reinforcement solutions. Contact us today to book your free, no-obligation inspection and secure the structural integrity of your home.
Carbon Fiber FAQs
Our installation teams usually complete carbon fiber installation in less than a day. However, this is subject to wall conditions and other factors. Contact us for a tailored estimate. 
Our Carbon Fiber straps are dark in color, and you may not find them aesthetically pleasing. However, the straps are low-profile and can be easily concealed with paint or drywall. 
Carbon Fiber is primarily recommended for concrete block or poured concrete walls with minor to moderate damage. Contact us for an accurate assessment of your walls, their conditions, and the best repair methods. 
Publish Date:
Last Modified Date: