Foundation Settlement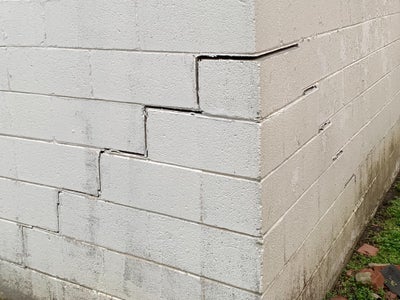 Foundation settlement can seriously affect your home's safety and stability. It's vital to get professional help to address it.
For over 30 years, Indiana Foundation Service has been the go-to for foundation repair services in the state. Our experienced technicians identify the signs of foundation settlement and use effective treatments to secure and elevate your home.
What Is Foundation Settlement?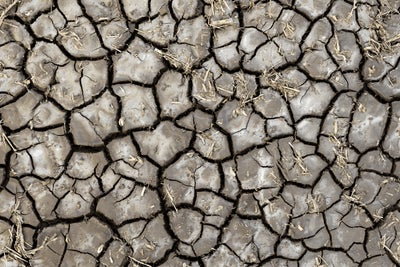 Foundation settlement occurs when a home's foundation sinks unevenly into the soil beneath it. This can happen gradually over time or suddenly due to heavy rain, snowmelt, or droughts.
When a foundation settles, it may detach from the rest of the building, resulting in cracks in walls, doors, and windows. This can also lead to uneven floors and difficulties opening and closing doors and windows. If unaddressed, severe foundation settlement can significantly damage the structure.
At Indiana Foundation Service, we offer various options for repairing your foundation and ensuring its stability. Our robust foundation pier systems support foundations and prevent future issues from arising.
What Causes Foundation Settlement? 
Several factors can contribute to foundation settlement, including:
Soil Shrinkage: Dry conditions or drought can cause clay soils to dry and contract, settling the foundation. Trees cause foundation damage by extracting soil moisture, also worsening the problem. 
Soil Expansion: Excessive rains or flooding can cause clay soils to swell and push the foundation upward. After the soil dries, gaps may form beneath the foundation, which can cause settlement. 
Poor Soil Compaction: Sometimes, the fill soils used during construction are not compacted sufficiently, causing the foundation to settle as the ground compresses.
Erosion: Runoff water can erode the soil around the foundation, making it unstable. Poor drainage and clogged gutters contribute to the problem.
Is Foundation Settlement Fixable? 
Yes! Foundation settlement can be fixed. The foundation must be permanently secured by redistributing its weight to deeper, more stable ground or bedrock. In most instances, it is not necessary to replace the entire foundation. Indiana Foundation Service has the necessary expertise to install simpler, less intrusive, and more effective solutions.
How to Address Foundation Settlement 
At Indiana Foundation Service, we use advanced technologies to repair foundations and address settlement issues. These include:
Push Piers: Steel piers are inserted deep into the ground and connected to the foundation footing with specialized brackets.
Helical Piers: These are screw-like steel piers installed underneath the foundation to engage stable underground soil. 
Slab Piers: These piers are designed to reinforce and possibly elevate concrete slab floors. 
Our engineered foundation piers permanently stabilize your home and may even lift sagging portions. We can also repair any cosmetic damage resulting from the settlement. 
Why Tackle Foundation Settlement Now? 
Immediate action on foundation settlement is crucial for several reasons, including:
Preventing Additional Damage: Ignored issues will only worsen, requiring more extensive and costly repairs.
Safety Considerations: Severe settlement can cause unstable walls and uneven floors, posing a safety risk.
Protecting Your Investment: Settling foundation reduces property value; foundation repair restores worth.
Peace of Mind: Our permanent solutions ensure a secure and stable home.
Our proprietary foundation repair technologies and skilled technicians comprehensively solve your foundation settlement problems. Schedule your free inspection and estimate today!
Contact Indiana Foundation Service for Your Foundation Settlement Solutions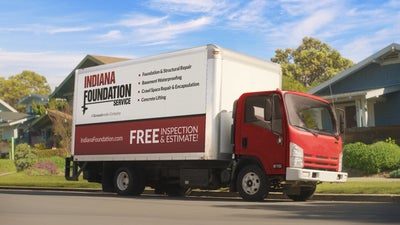 If you've noticed issues with your foundation settling, promptly addressing them is crucial. Indiana Foundation Service helps you identify the root cause of the problem and repair your foundation using advanced piering technologies.
We provide complimentary, no-obligation estimates for our services. Our experienced technicians are available to assess your home's foundation and suggest the most effective repair strategies. Contact us today to get started.
Foundation Settlement FAQs
If your home is experiencing foundation settlement, you will typically see the following symptoms:
Wall cracks
Floor cracks
Gaps between floors and walls
Chimneys that crack and tilt
It is important to contact Indiana Foundation Service immediately for a free inspection if you notice any of these problem signs.
The cost of repairing foundation settlement varies based on the extent of the damage and the chosen repair method. Indiana Foundation Service provides free, no-obligation estimates and flexible financing options to fit your budget. Contact us today to schedule your inspection and assessment. 
Uneven foundation settlement is caused by many factors, such as:
Soil contraction during dry spells
Soil swelling during heavy rain or flooding
Inadequate soil compaction during construction
Erosion due to poor drainage or blocked gutters
If you suspect foundation problems, contact Indiana Foundation Service for a free inspection and estimate.